How do you make healthy food choices?
Eating healthy is an important part of a healthy lifestyle. Here are some guidelines:
Eat 3 meals a day, with healthy snacks.
Increase fiber in the diet and decrease the use of salt.
Drink water. Try to avoid drinks that are high in sugar. Fruit juice can have a lot of sugar, so choosing whole fruit is always a better choice.
Eat fruit or vegetables for a snack.
Eat more chicken and fish. Limit red meat intake and choose lean cuts when possible.
Meet MyPlate. MyPlate is a is a guideline from the U.S. Department of Agriculture to help you eat a healthy diet.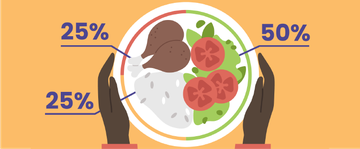 The MyPlate icon is divided into 5 food group categories, emphasizing the nutritional intake of the following on your plate:
Grains - ¼ of your plate.

Foods that are made from wheat, rice, oats, cornmeal, barley, or another cereal grain are grain products. Examples include whole wheat, brown rice, and oatmeal.

Fruits and Vegetables - ½ of your plate.

Vary your vegetables. Choose a variety of vegetables, including dark green, red, and orange vegetables, legumes (peas and beans), and starchy vegetables.
Any fruit counts as part of the fruit group. Fruits may be fresh, canned, frozen, or dried, and may be whole, cut up, or pureed.

Protein - ¼ of your plate.

Go lean on protein. Choose low-fat or lean meats and poultry. Vary your protein routine — choose more fish, nuts, seeds, peas, and beans.
On the side of the plate
Healthy plant oils – in moderation. Choose healthy vegetable oils like olive, soy, corn, sunflower, peanut. Others, such as animal fats, are solid and should be avoided.
Drink water, coffee, or tea. Skip sugary drinks, and limit juice to a small glass per day.
Milk products and many foods made from milk are considered part of this food group. Focus on fat-free or low-fat products, as well as those that are high in calcium. Limit milk and dairy products to one to two servings per day.