Breathing Exercises
Worrying and getting upset from time to time is part of life. Knowing how to calm down when we become scared, anxious, stressed, or nervous is a good life skill. There are many ways to calm down and relax. One of the easiest, quickest ways is to breathe, deeply.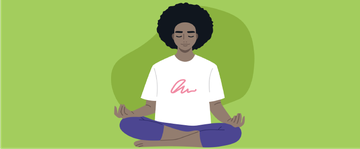 Deep breathing is an effective technique for reducing feelings of anger, stress and anxiety. Slowed breathing relaxes the body, helping us feel calmer and able to cope. If you feel like your emotions are taking over, try this box breathing exercise to help you calm down. Box breathing includes four steps:
inhale,
hold,
exhale,
hold.
Each step lasts four seconds. Follow along:
Get Ready
Count to 10 to focus yourself.
Find a position Either take a seat with your feet flat on the floor or lie down.
Place your hands on your belly and close your lips
Step 1 - Breathe in
Breathe in through your nose to the count of four. Try to pull air down into your stomach where your hands are. If you can't breathe in comfortably through your nose, it's OK to breath through your mouth instead!
1....
2....
3....
4....
Step 2 - Hold your breath
Hold your breath with your lungs full for the count of four
1....
2....
3....
4....
Step 3 - Slowly release
Slowly release to the count of four to four.
1....
2....
3....
4....
Step 4 - Hold your breath
Hold, again, with your lungs empty for four counts.
1....
2....
3....
4....
Start again at Step 1 and repeat
Inhale, again, starting back at Step 1 with a four-count inhale. Repeat this activity for one minute.
Close your eyes
and picture yourself calm. See your body relaxed.
Tips:
Don't count too quick! If four counts are difficult for you, try starting with three.
Watch your hands on your stomach move up and down as you breath – this shows you that you are doing it correctly.
Build your endurance to practice this breathing exercise for a full minute.
Practice when you are not under stress, so that the skills are ready when you need them.
When feeling bad, tell yourself "I'm learning to cope when I'm feeling bad, so I can have strength to face difficult situations, I am proud of myself." Then use your breathing technique to take control of yourself and your emotions.