Spread Awareness and Take Action
How YOU can help.

1. Follow UNICEF and the World Health Organization (WHO) for the latest information and updates
NOTE: data charges may apply.
2. Share Information with Your Friends
Share the social media messages and graphics from UNICEF and WHO on your Facebook, WhatsApp, TikTok, Snapchat, Instagram, Twitter (or any other social media you use) to make sure that all your friends have correct and reliable information!
The link below will provide you with accurate information, but don't forget to share it with your friends!
Share links in online forums or comment sections on websites that you visit regularly.
3. Sign up for U-Report to get the latest updates in your country and to learn how to protect yourself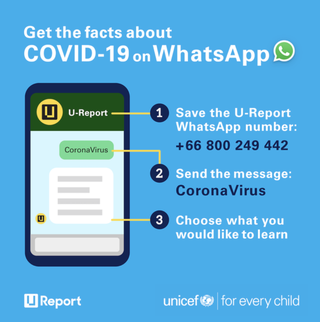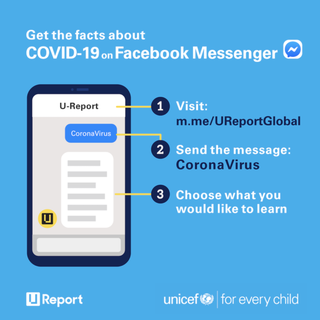 1. Test your knowledge
Do you know the facts about COVID-19? Take the UNICEF quiz to find out. Then challenge your friends to take it.
2. Check out VOICES OF YOUTH for stories, poems, drawings and comics by young people about their experiences with the COVID-19 outbreak. Sign up and share your story or creative content, or engage with Voices of Youth on Twitter.
3. Go live on social media
Go live on social media and show people how to wash their hands correctly and/or talk about the importance of physical distancing. Make sure you have the correct information before you share it with others – you can find a lot of resources on UNICEF's website. You could also take part in one of the many local and global social media challenges happening to promote health and safety around COVID-19 or to boost people's spirits.
4. Do a tutorial
If you have a skill or a hobby that you can do safely from home (dancing, cooking, poetry, fitness, art) you can also share that with friends online to brighten up their day - and yours.
5. Intervene

1. Talk to your family
Make sure that all your family members know the importance of handwashing and hygiene, physical distancing and where to find the latest, most reliable information. Set up a family meeting to discuss this with them. If you have family who don't live with you or don't have regular access to reliable news sources, pick up the phone and give them a call. This is especially true of grandparents (people over 70) and others who are more vulnerable.
2. Help with learning and play
Find out if you can help younger siblings or family members with learning and play activities if their schools have closed.
3. Study Buddies
If your school or university has closed, team up (virtually) with a friend or group of friends to study together or help each other with course material. Adjusting to learning remotely can be challenging for a lot of people and they may not feel comfortable asking for help.
4. Community spirit
Organize a remote or virtual activity with your friends, family or neighbors to show solidarity and support during this challenging time. In some countries people have been organizing sing-alongs or playing musical instruments with their neighbors – while staying safe in their own homes.
5. Community needs
You might already be part of a community group – if so, you can work together to understand how community members feel at this time, what their needs and what they are worried about. You could use community WhatsApp groups, Facebook pages, listservs, message boards or even phone calls to consult people and compile a list of community concerns and needs. These can be shared with local leaders to help them